While the media is more focused on the RBA announcing multiple cash-rate rises, Australian businesses have another challenge to contend with: surging energy costs. When you look at the current uptick in the price of grid electricity, the cost of installing and running rooftop solar just makes good business sense.

Let's break it down and explain why getting rooftop solar in 2022 is a no-brainer for commercial enterprises.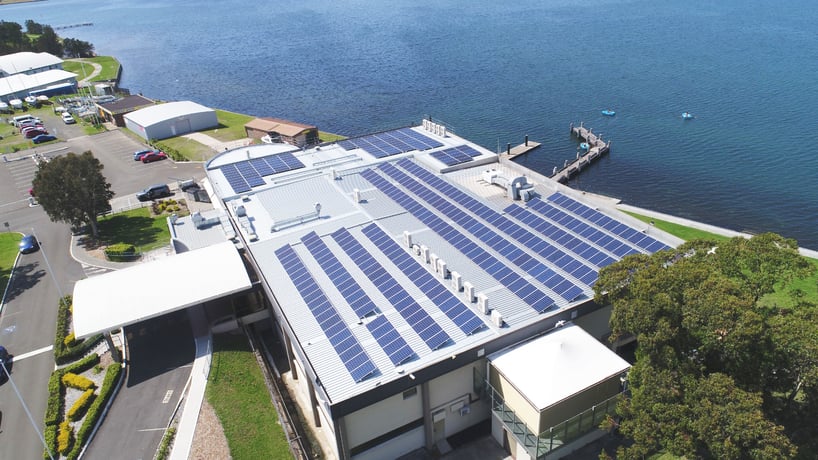 Top considerations when comparing solar costs and financial outcomes
For any commercial investment to be viable over the long term, it needs to deliver a clear return on investment. When it comes to solar, there are various factors to consider in determining the potential financial outcome of such an investment:
Capital cost of solar: This will vary depending on whether it's a rooftop, ground-mount or car-shade solar solution. The complexity of the integration into your commercial site will also influence the capital cost.
Generation and consumption of the system: Sizing your system is extremely important in order to achieve the optimal outcome. A provider like Smart Commercial Solar can provide you with options to increase the performance of your system, such as adding tilt frames or trackers, which can drastically improve solar generation.
Available incentives: Such as energy certificates, which are dependent on the size of your system and location. Small Technology Certificates (STC) provide an upfront benefit to businesses that install systems up to 100kW, and the value can be up to $40,000, which makes up around 30% of the total price of the system. Systems over 100kW may qualify for the Large Generation Certificates (LGC), which provide one certificate for every 1MWh the system generates (claimable every six months). The Victorian Energy Efficiency Certificate (VEEC) is for VIC-based companies, and their benefit compared to LGCs is that all awards are generated in one hit (18 months post-installation). VEECs currently sit at around $75–80 per certificate, compared to approximately $50 for LGCs.
The cost of electricity: With energy making up a significant portion of most companies' overheads, any movement up or down can impact the feasibility of installing solar. As you can see in the graph below, we are experiencing a massive uptick in electricity costs across most of the country.
How solar compares to grid costs in 2022
To give you a clearer picture of how the move to solar might look for your operation, let's consider two procurement options: an Outright Purchase or a Power Purchase Agreement. Both of these worked examples are based on real projects.
Outright Purchase
To give you an example of how the financial outcomes for a same-size system have changed in recent years, here are some costings for a 500kW solar system over three different time periods – pay particular attention to the major changing factor, which is the wholesale energy price.
2016

2019

CURRENT

Average wholesale energy price (NSW)

$88

$79

$200

System size (kWp)

500

500

500

Capital purchase price

$725,000
0%

$625,000
-13.7%

$600,000
-4%

Savings per annum

$79,650

$73,575

$155,250

LGC income per annum (average)

$25,150

$11,679

$19,348

Payback period (years)

6.3

7.2

3.5
If you have looked into solar in the past but felt the financials didn't align with your needs, you can clearly see that now is the best time to take advantage of an Outright Purchase.
Power Purchase Agreement (PPA)
The alternative to an Outright Purchase is a Power Purchase Agreement. This is where a solar provider like Smart Commercial Solar installs the system for free, and you simply pay for the electricity the system generates. You will pay for that at a much more competitive rate than your current retail electricity rates.
As an example of the potential financial outcomes for installing solar through a PPA, below are the costings for three different-size systems using current prices. Again, these are real-life examples of customers taking advantage of solar via a Power Purchase Agreement.
500kW
system

2.5MW
system

3.7MW system

Length of term (years)

10

12

20

Comparative grid rate (Energy + Network + Pass-through)

$0.2273/kWh

$0.1250/kWh

$0.1050/kWh

PPA rate

$0.1027/kWh

$0.0598/kWh

$0.0365kWh

Price reduction

55%

52%

65%

Year 1 cashflow position

$49.015

$193,644

$443,537

Year 10 cashflow position

$545,913

$2,219,911

$5,084,660

Operation and maintenance

Included

Included

Included
Want to Learn More?
2022 is proving to be a fantastic year to make the move to commercial solar. So to get tailored pricing for your specific needs, get started with a feasibility assessment.
You can also get the latest news and find out what's happening in the commercial solar space at Smart Insights.