From energy savings and tax incentives to corporate sustainability and employee satisfaction, solar energy can offer so many benefits to businesses. But for many, managing the installation, ongoing maintenance and repair of their own solar system is too big a task.
Thankfully, solar Power Purchase Agreements (PPAs) are an alternative solution that can offer all of the cost savings of solar power without the operational risk and upfront cost of a traditional solar system.
In this article, we dive into what they are, how they work, some of their key benefits and how they differ from other solar financing options.
What is a Solar Power Purchase Agreement?
A Power Purchase Agreement (PPA) is an alternative energy financing model whereby a business only purchases the power that a solar system generates, instead of owning, maintaining and operating the system itself.
PPAs have become increasingly popular in recent years, especially among large eco-minded businesses that don't have the physical space required to install their own renewable energy systems. Companies like Google, Facebook, Amazon and Apple are just some of the modern adopters of solar PPAs, which allow them to meet their stringent environmental targets, without assuming the operational risk involved in maintaining their own systems.
In Front of the Meter PPAs and Behind the Meter PPAs
It's important to distinguish between in front of the meter PPAs and behind the meter PPAs when conducting your research.
In front of the meter PPAs are often called Corporate PPAs, and generally the domain of large businesses dealing directly with large-scale energy generators, like solar farms. These are called in front of the meter PPAs because the energy generator doesn't need to be in the same vicinity as the consumer.
Behind the meter PPAs are for businesses looking to install a solar PV system on site, but only purchase the power it generates.
How Does it Work?
It's easy to think of a Power Purchase Agreement as a contract to purchase energy, which outlines all of the commercial terms for the sale of the electricity from your solar provider to your business. A PPA will outline when the project will start commercial operation, the schedule for delivery of electricity, the payment terms and buyout schedule.
Power Purchase Agreements can range anywhere from a few years to 25 years in length, throughout which time your solar company is responsible for the maintenance and operation of the system. When the PPA ends, you may have the option to extend the contract or buy the system from the solar provider.
Is a Solar PPA Different From a Solar Lease?
When researching Power Purchase Agreements, you may encounter providers who offer solar leases as alternative financing models. A solar lease is similar to a PPA arrangement, whereby your business gains reliable renewable energy with little to no upfront costs or ongoing maintenance.
However, solar leases often differ in duration and have slightly different financing arrangements. For example with a solar Power Purchase Agreement, businesses usually pay monthly based on the amount of energy the solar system has delivered. With a solar lease, businesses usually agree to a predetermined ongoing fixed cost, no matter how much energy they consume.
5 Benefits of Solar PPAs
So why have Power Purchase Agreements become an increasingly popular solar financing arrangement? Let's outline some of the main benefits of solar PPAs.
1. Reduce Upfront Costs
One of the obvious advantages of PPAs is the ability to avoid the upfront cost involved in building and installing your own solar system. This can free up your capital for other important business investments, while also being friendlier on your cash flow.
2. Reduce Operational Risk
Deferring the development and maintenance of a solar system to another party is another attractive benefit of Power Purchase Agreements. Because you're only liable to purchase the energy the system generates, you can avoid the inherent operational risk involved in maintaining the system.
3. Reduce Ongoing Energy Costs
The financial benefits of solar energy are clear, and with a solar PPA, your business can gain predictable electricity costs over the term of the agreement.
Depending on the pricing terms in your PPA, your agreement may stipulate an agreed rate rise matched to inflation and other factors. Although price increases might be written into your PPA, it's unlikely that these would be more than the general market increases we see in Australia.
A report commissioned by Energy Consumers Australia found that between 2016 and 2017, the average commercial energy bill increased by 36% in states like South Australia, with New South Wales and Victoria not far behind. Furthermore, the ABC reports in 2019 that despite Federal Government intervention to regulate costs, energy prices continued to rise.
4. Improve Cash Flow
The ability to have more affordable and predictable commercial energy is great for cash flow planning and financial forecasting.
Price rises and seasonal changes in energy rates can destabilise your cash flow, which is a crucial consideration for any successful business. For many businesses, covering unforeseen energy costs can limit essential investment in growth activities like marketing, hiring and product development.
5. Take Advantage of Renewable Energy Credits
There are several rebates and incentives available for Australian businesses adopting solar energy. For example, commercial systems beneath 100kW are eligible for the Small-Scale Technology Certificates (STC) Program incentive, which reduces cost based on the amount of power you're expected to produce over the next 13 years.
For systems over 100kW, the Large-Scale Generation Certificate (LGC) delivers ongoing savings as opposed to an upfront discount. Businesses claiming LGCs must register to be an Accredited Power Station with the Clean Energy Regulator, which will ensure you can accurately track and claim the solar power you consume.
Is a PPA Right For Your Business?
If you're looking for a cost-effective way to lock in energy costs at a fixed rate, avoid the ongoing risk of owning and operating an energy asset, and do your part for the environment, a solar Power Purchase Agreement could be a great solution for your business.
Not only do PPAs provide an easy entry point into adopting cleaner energy, but they can also deliver real cost savings from day one, without the operational risks associated with installing your own system.
Smart Commercial Solar PPAs
At Smart Commercial Solar, we've installed PPAs for well-known Australian businesses including Blackwoods and Four Pines Brewery. We offer an investor-based model whereby the solar system is funded by investors, provides you with affordable clean energy, and pays back investors with interest as the system earns revenue. At the end of the PPA, we give you the system for free.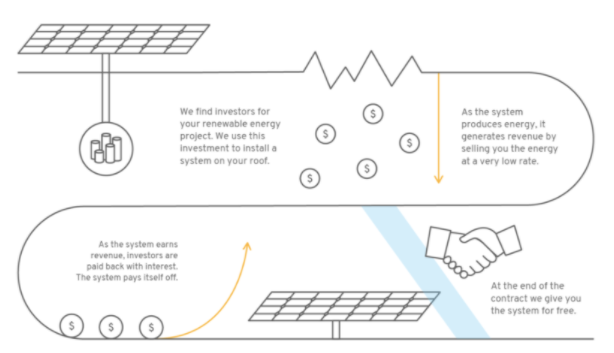 If you'd like to discover how your business could benefit from a Power Purchase Agreement with Smart Commercial Solar, get in touch with us today.