The Government has released a number of stimulus packages for Australian businesses during these uncertain times. We feel these are useful for some, but not all of those businesses, as many won't be able to take advantage of the tax incentives. With that in mind, Smart Commercial Solar ("Smart") have designed an offer that puts money directly into the pockets of solar system owners, to provide them with much needed cash to support their operations.
Smart have been installing solar projects for large businesses since 2012. Smart has kept in touch with all of them, to ensure these projects achieved the performance forecasts provided during the feasibility stage.
Many of these solar projects have surpassed their respective return on investment periods and others may still have a number of years remaining. Considering the current economic environment, Smart would like to offer further opportunity and assistance to its customers, and to any business who currently owns a solar system.
THE OFFER EXPLAINED
1. Smart understands cash is important right now;
2. Smart are offering to buyback our customers' solar systems at the rates detailed below;
3. As part of this buyback, the customer will then enter into a Power Purchase Agreement ("PPA") with Smart to buy the energy from the system;
4. This energy will be significantly cheaper than the customers' current energy rates; and
5. The energy will be free for the first six (6) months of operation.
This offer is designed to provide upfront cash relief to businesses, whilst still providing a reduction in overhead costs over the long term. Smart is hopeful that this measure will ensure businesses are given the greatest chance possible to ride through these tough times.
IMMEDIATE REPAYMENT HOLIDAYS
We know that business is hard right now. To further assist businesses looking to ride out the short term our Solar Buyback Scheme comes with a six (6) month payment holiday upfront. This means the energy from your solar system will be free for the first six (6) months.
RATE BREAKDOWN
These rates are subject to an inspection of the system to determine any wear and tear over its lifetime. Smart will be able to perform virtual assessments to existing customers and are confident in the rates shown here.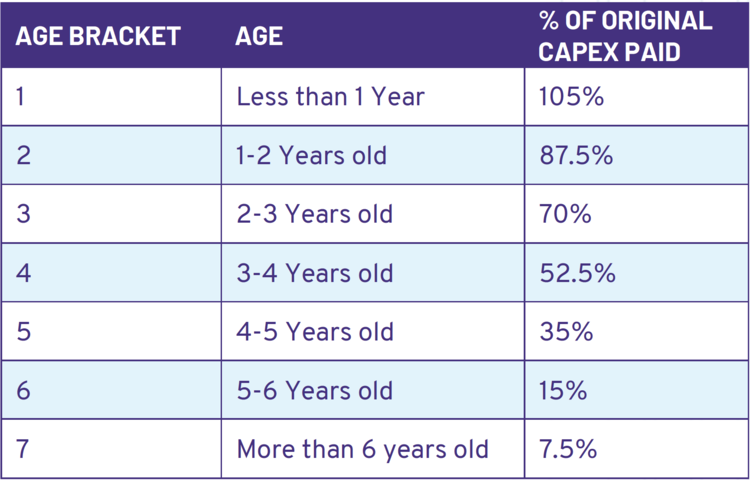 PRACTICAL EXAMPLE
These practical examples will provide immediate cash as well as an attractive long-term cash flow benefit for the business.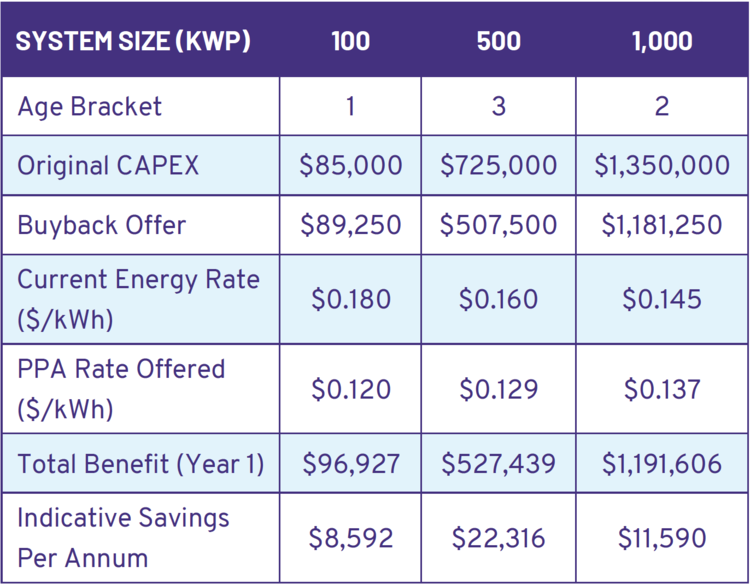 If the above options are of interest to your business, please reach out to discuss your Buyback rate.