Case Study
St Andrews Cathedral
Sydney CBD, NSW
PROJECT KEY STATS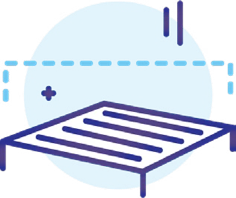 System Size:
2kW BIPV
Industry:
Place of Worship
Project Summary
Smart Commercial Solar were engaged through Stephen Edwards Construction to deliver a specialised solar system for the St Andrews Cathedral upgrade.

The solar panels were to be installed over the atrium of the cathedral. The system had to be weatherproof and the panels translucent to meet the lighting requirements inside.

Smart worked with Spanish panel manufacturer, Onyx, to design and supply a panel that would suit the allocated space and transparency. The result were 10 individually bespoke glass on glass panels, built without a frame to be installed more like windows, with a 70% transparency. The risk in delivering a project of this nature is that you cannot order spares in case of cracking or breakage in freight, due to the cost of each panel there was no room for extra.

The delivery team had to be particularly careful installing on one of Australia's oldest heritage sites. Smart enlisted the help of specialised glazers to handle the delicate panels and install the waterproofing.

The project was a massive success and speaks to the engineering teams capability to design and construct a truly beautiful solar system.