class="
image-block-outer-wrapper
layout-caption-below
design-layout-inline

"
data-test="image-block-inline-outer-wrapper"
>
class="
sqs-block-image-figure
intrinsic
"
style="max-width:590.0px;"
>

style="padding-bottom:47.966102600097656%;"

class="
image-block-wrapper

has-aspect-ratio
"
data-animation-role="image"

data-animation-override

>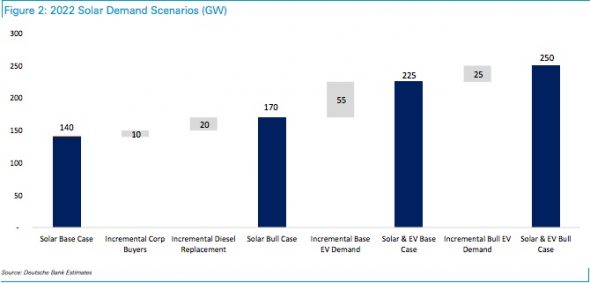 The solar market just keeps on growing. Here's the latest analysis from Deutsche Bank:
Demand for solar is expected to surge over coming years, but its growth rate could effectively double if there is rapid uptake of electric vehicles, and as more companies turn to the technology to save energy costs, and more countries reach solar and storage "parity" with grid prices.
A new report from leading solar analyst Vishal Shah, at Deutsche Bank, says demand for solar is already expected to increase by 10 per cent a year out to 2022, to around 140GW.
But the impact of EVs, solar micro-grids, corporate power purchase agreements and storage parity could see this growth rate more than double, pushing annual demand for new solar power to 250GW by 2022.