class="
image-block-outer-wrapper
layout-caption-below
design-layout-inline

"
data-test="image-block-inline-outer-wrapper"
>
class="
sqs-block-image-figure
intrinsic
"
style="max-width:547.0px;"
>

style="padding-bottom:66.72760009765625%;"

class="
image-block-wrapper

has-aspect-ratio
"
data-animation-role="image"

data-animation-override

>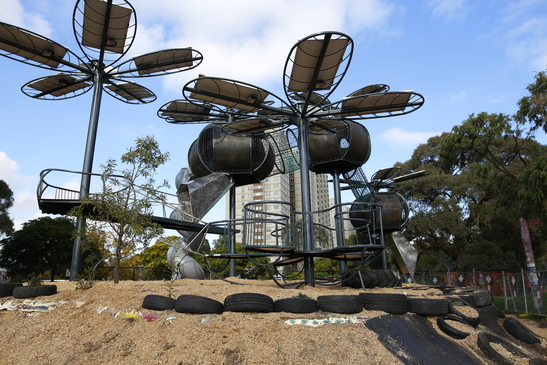 A playground in Melbourne is carrying a serious message for coal, its reign is over.
Rising from a rare patch of green in Fitzroy, the black outline of Coal Flowers is like an obituary to carbon that's been written against the sky.
Local kids climb onto its platforms and slide down its chute, thinking of nothing much more than how good it feels to run and shout. The arty types who wander past on their way down Brunswick Street might appreciate the Gothic symbolism in this dark urban garden.
But once everyone spots the solar panels up above, sculptor Benjamin Gilbert is hoping the message will come across loud and clear: clean energy has beaten coal, and that's that. So let's have fun!