class="
image-block-outer-wrapper
layout-caption-below
design-layout-inline

"
data-test="image-block-inline-outer-wrapper"
>
class="
sqs-block-image-figure
intrinsic
"
style="max-width:100%;"
>

style="padding-bottom:59.121620178222656%;"

class="
image-block-wrapper

has-aspect-ratio
"
data-animation-role="image"

data-animation-override

>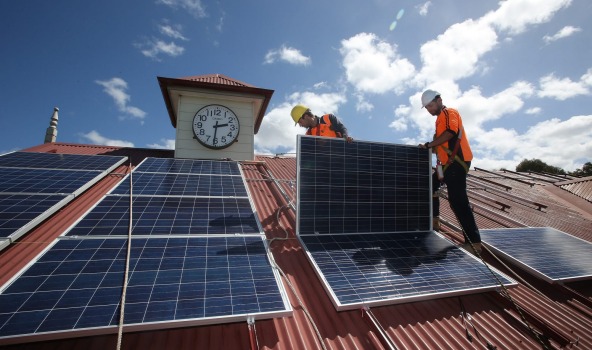 We here at Smart Commercial Solar have never been completely sold on the speed of the solar battery revolution. It now seems that red tape could be a problem. Don't worry, though, it's still coming, but patience might be needed. Luckily, the overall cost of commercial solar continues to fall, making solar increasingly attractive to business (batteries or no batteries). Here's an excerpt:
Red tape threatens to flatten the solar storage battery revolution by restricting the use that electricity suppliers and users can make of their solar panels and batteries, Transgrid and City of Sydney chiefs warned.
Sydney Lord Mayor Clover Moore and Transgrid chief executive Paul Italiano said regulations are struggling to keep up with the pace of change in batteries, solar panels and smart grid systems and could stifle the rollout of the technology.
The City of Sydney has solar panels installed at about 20 sites in its local government area but Ms Moore said red tape penalised efforts to use panels at one site to meet shortages at other sites.
Transgrid plans to install 500 kilowatt hours of batteries at City of Sydney's Alexandria depot to allow the city to install more solar panels and also to meet network shortages at peak demand times.
Read the rest of the story here.