class="
image-block-outer-wrapper
layout-caption-below
design-layout-inline

"
data-test="image-block-inline-outer-wrapper"
>
class="
sqs-block-image-figure
intrinsic
"
style="max-width:100%;"
>

style="padding-bottom:66.54545593261719%;"

class="
image-block-wrapper

has-aspect-ratio
"
data-animation-role="image"

data-animation-override

>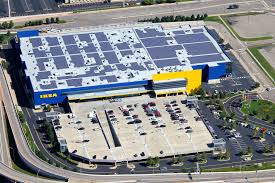 Ikea has just announced its upcoming solar projects. It has already put solar on its buildings here in Australia, but they plan on taking solar global. Here's an excerpt:
The Swedish homefurnishing giant is rolling out its residential solar program in three European countries in the coming months before expanding its solar sales points in stores globally. It aims to be the largest residential solar retailer globally.
Building on its pioneering role in installing large solar arrays atop its stores in the Europe, the U.S. and Australia, Ikea will now introduce sales points within its stores at which homeowners will be able to purchase solar systems. It plans to begin offeringresidential solar arrays from its stores in nine countries in 2016/17.
Ikea will begin rolling out the solar sales points within its stores in the UK, Netherlands and Switzerland in the first half of 2016. It is making the move after having conducted trial solar sales programs in the same three countries. Ikea reports the trial was a success with customers responding well to the combination of simplicity, transparency and the ability to produce their own renewable energy at an affordable price.
"Ikea's ambition is to help and inspire their customers to live a more sustainable life at home and the residential solar program is one step on the way to reach that ambition," said Håkan Nordkvist, Head of Sustainability innovation at Ikea. "Last year there were 770 million visits to Ikea stores worldwide and the company sees that as a great platform to fulfill our ambition and for people to be able to live a more sustainable life at home."
Read the rest of the story here.
Image courtesy businesswire.com