class="
image-block-outer-wrapper
layout-caption-below
design-layout-inline

"
data-test="image-block-inline-outer-wrapper"
>
class="
sqs-block-image-figure
intrinsic
"
style="max-width:100%;"
>

style="padding-bottom:56.0%;"

class="
image-block-wrapper

"
data-animation-role="image"

data-animation-override

>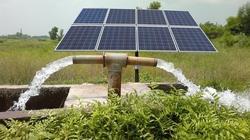 Here's some news that has direct application to anyone in agriculture: the solar pump market is set to boom. Speaking of agriculture, part of our team is at AgQuip this week (if you're there too, drop by Booth AA-BB/9-10(10), we'd love to chat). AgQuip's links are here and here.
Here's an excerpt from the article:
SAN FRANCISCO, CA, Aug 17, 2015 (Marketwired via COMTEX) -- The global solar pumps market is expected to reach USD 3,639.0 million by 2022. Strong shift in trend towards replacing diesel and electric pumps in order to reduce reliance on conventional energy is expected to drive the global solar pumps market. Increasing government support in the form of subsidies and tax benefits particularly in emerging markets of Asia Pacific and Africa is also expected to have a positive influence on the market growth over the forecast period. However, higher upfront investment cost compared to its conventional counterparts is expected to remain a barrier for market participants.
Browse full research report with TOC on "Solar Pumps Market Research Report To 2022" at:http://www.radiantinsights.com/research/solar-pumps-market-analysis-by-product-dc-surface-suction-ac-submersible-dc-submersible-and-ac-floating-by-application-agriculture-and-drinking-water-and-segment-forecasts-to-2022
DC surface suction pump was the largest product segment and accounted for 83.4% of the total market volume in 2014. Increasing micro-irrigation activities coupled with continuous & clean drinking water supply in remote places with irregular electric supply is expected to drive this segment over the forecast period. AC submersible pump is expected to witness the highest growth of 40.7% from 2015 to 2022. Increasing adoption of AC submersible pumps particularly in high growth markets such as India and Bangladesh is expected to drive this segment over the next seven years.
Further key findings from the study suggest:
Global solar pumps market was 120,786 units in 2014 and is expected to reach 1,571,028 units by 2022, growing at a CAGR of 38.1% from 2015 to 2022.
Agriculture was the largest application segment and accounted for 62.9% of total market volume in 2014. Agriculture is also expected to witness the fastest growth of 38.5% from 2015 to 2022. Increasing agricultural activities in emerging markets such as India, China, Bangladesh, Morocco and South Africa is expected to drive this segment over the forecast period.
Read the rest of the article here.