class="
image-block-outer-wrapper
layout-caption-below
design-layout-inline

"
data-test="image-block-inline-outer-wrapper"
>
class="
sqs-block-image-figure
intrinsic
"
style="max-width:100%;"
>

style="padding-bottom:56.71141052246094%;"

class="
image-block-wrapper

has-aspect-ratio
"
data-animation-role="image"

data-animation-override

>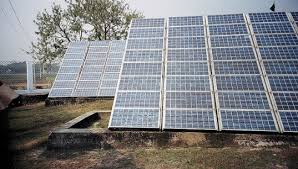 The Indian public works department has had successful results from trials that consisted of installing solar panels to power water pumps in the Barcem community which is too remote to receive water treatment from Goa. The success of this trial has led to plans to expand the installation of solar panels and may even lead to advancements of solar powered light in the area.
Here is an excerpt:
Sources in the PWD said the department has prepared a detailed project report (DPR) to the tune of 16-crore to replicate this system in other remote areas. This is part of a central government scheme, where 70% of the funding is done by the centre. The centre has allotted Goa, 200 such solar-driven pump systems for 2015-16. Beneficiary locations are now being finalized, sources said.
Enthused by the success of the Barcem trials, PWD officials feel the solar-powered pump system can be used in private colonies or other open wells, where electrical pumps are used for drawing water. The system can also be used in schools where it will demonstrate to students, the benefits of non-conventional energy. The benefits are savings in electricity and low maintenance costs.
The Barcem trials have opened up a new window. Of the three Barcem locations, one does not have electricity. Not satisfied with just "solar" water, the people there now want "solar" lights as well. The PWD might just facilitate this, sources said.
Click here to access the full article
And don't forget...It's World Environment Day 2015.
Watch the official video here.
And visit the official site here.
class="
image-block-outer-wrapper
layout-caption-below
design-layout-inline
"
data-test="image-block-inline-outer-wrapper"
>
class="
sqs-block-image-figure
intrinsic
"
style="max-width:100%;"
>
style="padding-bottom:80.76922607421875%;"
class="
image-block-wrapper
"
data-animation-role="image"
data-animation-override
>