class="
image-block-outer-wrapper
layout-caption-below
design-layout-inline

"
data-test="image-block-inline-outer-wrapper"
>
class="
sqs-block-image-figure
intrinsic
"
style="max-width:100%;"
>

style="padding-bottom:56.290321350097656%;"

class="
image-block-wrapper

"
data-animation-role="image"

data-animation-override

>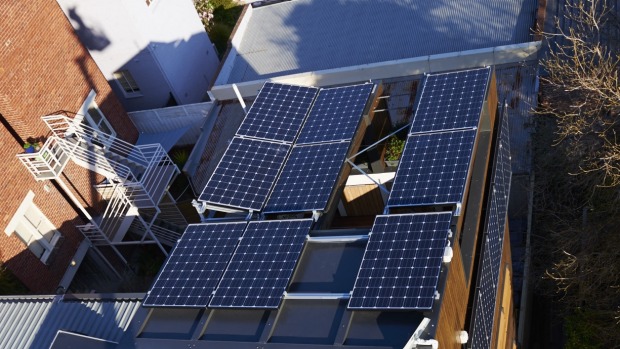 With all the recent solar improvements and more innovations in the works, Australia's solar future shines bright. As reported by the Sydney Morning Herald, companies such as Enphase, Tesla and AGL are all pushing things forward at a rapid rate --the market will feel this (actually already is). Here's the excerpt:
The new Prime Minister declared disruption technology to be the way forward, "if we are agile and smart enough to take advantage of it".
Home batteries are exactly the kind of disruption technology the PM was talking about. Energy storage boxes you install on a weatherproof exterior wall, they are set to become a piggy bank for the 1.5 million rooftop solar systems in place across Australia.
The photovoltaic (PV) panels catch rays from 150 million kilometres away, convert it into DC electricity, and feed it into an inverter to make 240-volt AC power to run our homes.
Home storage batteries such as those made by Enphase promise to revolutionise renewable energy use. Photo: Supplied
The energy sector's peak industry body, the Energy Supply Association of Australia (ESAA), reports that with 15 per cent penetration, Australia is the world leader for residential solar, luring American companies such as Tesla and Enphase to enter the market.
"Battery storage is a critical part of a smart energy future," says ESAA spokesperson Andrew Dillon. "We're all for energy productivity and batteries, if deployed well, can be a key part of increasing that."
Many early solar adopters who locked in premium tariffs of up to 68 cents per kWh have been blessed with summer utility bills in credit. For those later to the party, the panels may have been cheaper to buy, but tariffs have dropped to a paltry 5 to 8 cents per kWh, which suggests using your sun juice during the day, or selling it into the grid for next to nothing.
The arrival of battery storage changes all that, with a device that stores your excess solar energy for use after the sun goes down – much like the body stores fat.
Environment Minister Greg Hunt believes the arrival of battery storage will benefit the grid, the networks and ratepayers.
"Storage can smooth out energy supply, reduce peak loads, mitigate the need for network upgrades and allow utilities to better manage power supply and demand. Network operators recognise reducing the costs to rate-payer is part of their responsibility," his spokesperson said last month.
A study by the Australian government's renewable investment agency, ARENA, found that by 2020 the cost of home batteries could drop 40-60 per cent.
"For many consumers battery storage is unlikely to be economic right now, with costs of around $10,000. However, with battery costs predicted to halve in under five years, the value proposition for consumers will quickly stack up and we should see a dramatic rise in the number of homes with solar and storage," predicts ARENA CEO Ivor Frischknech.
Tesla is setting a cracking pace in the battery space, with outlandish entrepreneur Elon Musk announcing grand plans to "change the way the world uses energy" with its Powerwall home battery for households. Its 7 kWh system thatweighs a hefty 100 kilograms but carries a lighter than expected price tag of $US3000 ($4200).
It's a tempting price, but you have to factor in a compatible dual inverter, such as the Fronius Symo Hybrid at about $4000, plus installation costs – pushing you closer to five figures to jump on the Powerwall train.
When it was released on the US marketearlier this year, 50,000 Powerwall units sold in a matter of weeks. Australia is next on the list with reservations now available on Tesla's website.
"With a saturation of solar across the country, feed-in tariffs, rising electricity costs and the climate in Australia, this market is a great place to launch," says Tesla Australia's marketing manager, Heath Walker.
US-based tech company Enphase begins selling its energy storage products in Australia from December . Its bright orange 1.2 kWh AC batteries, priced at $1150 per kWh, will roll out into garages and carports from April 2016.
Enphase thinks Australia is the logical place for the energy storage push based on the maturity of our PV market and sliding feed-in tariffs.
"There are a lot of customers in 2016 who are about to come off some very generous feed-in tariffs of 60 cents [per kWh] who will want the opportunity to store what it is they're generating, instead of losing 40-50 cents in payment," says Nathan Dunn, MD for Enphase Asia-Pacific.
The nine-year-old global energy player recently showed off its solar solution at 5x4, a carbon neutral test case in Hayes Lane, East Melbourne.
Designed and built by commercial photographer Ralph Alfonso, the four-level apartment runs on a 3.5kWh PV system of 15 solar panels and is about to add Enphase AC batteries to the mix – boosting its energy savings by an extra 20 to 30 per cent. Telsa's Powerwall might be getting all the hype, but Alfonso liked the flexibility of Enphase's "plug and play" modular design that retrofits to any existing PV set-up with the attachment of an information gateway.
Greg Wolfson, Enphase's storage director, says unlike most energy storage systems, theirs doesn't need to communicate with a string inverter, which is great news for the majority of Australia's rooftop solar set-ups.