class="
image-block-outer-wrapper
layout-caption-below
design-layout-inline

"
data-test="image-block-inline-outer-wrapper"
>
class="
sqs-block-image-figure
intrinsic
"
style="max-width:100%;"
>

style="padding-bottom:56.290321350097656%;"

class="
image-block-wrapper

has-aspect-ratio
"
data-animation-role="image"

data-animation-override

>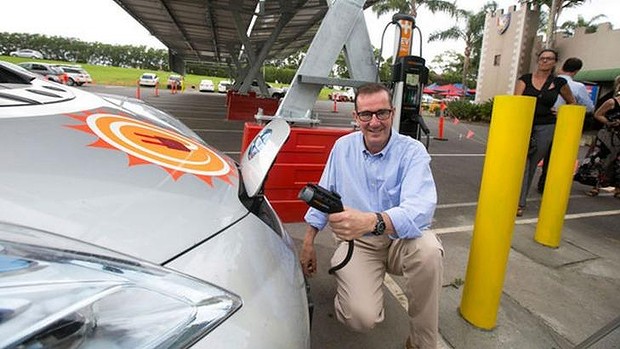 Here's an update on our solar carpark installation at Macadamia Castle. It looks like Elon Musk's Tesla is getting involved in the mix to create a network of charging stations up and down our coastline. Terrific news. Hopefully solar carparks will be part of the equation -- they definitely should be since the economics are on their side. Here's an excerpt from the article:
For 40 years, the Macadamia Castle between Ballina and Byron Bay has been a refuge for weary travellers – a timely pullover stop for family station wagons loaded to the hilt with luggage and for sun-tanned backpackers alike.
But the Knockrow fortress could soon become a hot spot for a completely different reason. In the corner car park resides a 180-panel solar grid sitting atop a newly constructed car port, generating enough electricity for the castle and its surrounding grounds. According to the castle's owner, the abstract structure represents the beginning of an electric revolution.
"At one end of the car port are two charging stations for electric cars, almost like petrol bowsers," Tony Gilding explains. "They've been installed to make people feel more confident about driving longer distances in electric cars. We're probably five or 10 years ahead of the game, but I see this as the way of the future."
And he is not alone.
Despite new car sales figures which reflect little demand for electric cars, Australia is on the verge of a big infrastructure investment in the technology from this year.
American electric car company Tesla has announced plans to launch 16 high-powered supercharger stations between Melbourne and Brisbane by 2016, 10 of which are flagged for completion this year. Theoretically the stations will allow a Tesla customer to travel between Brisbane and Melbourne without paying a cent for electricity – simply plug into a supercharger and wait 20-odd minutes (giving you a circa 250km range – depending on the model – a full charge takes one hour).
The same formula appears to be gaining momentum in the US, where Tesla has been present since 2012 and now offers a supercharger network exceeding 140 stations.
In addition, established luxury brands such as BMW are increasingly testing the waters of the local electric market.
Electric investment has yielded mixed responses in the past. A similar, though smaller rollout of free electric charging stations was trialled in Australian capital cities with minimal take-up and only 1015 electric cars were sold nationally last year, during a time in which the total new car market exceeded 1.1 million vehicles.
However, Tesla is adopting a "build it and they will come" mentality to electric cars in Australia and feels it will soon have the right formula and model mix to help the technology gain traction.
"It is real and it's here," Tesla spokesman Heath Walker said.